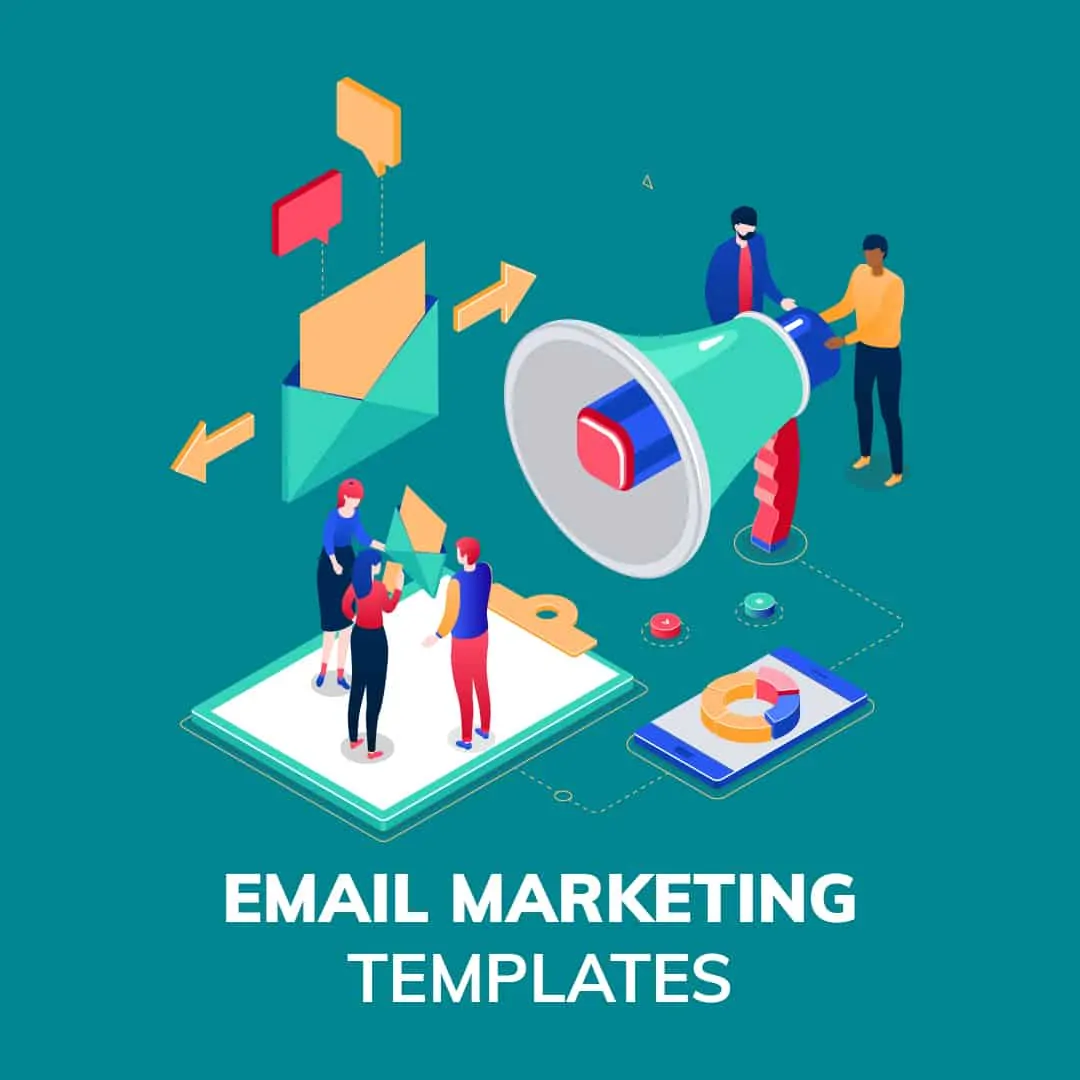 Email Marketing Templates
Custom Email Marketing Campaign HTML Template
Set your email marketing campaign apart from your competitors with a custom designed email HTML template for your next email campaign.
Based upon your instructions, you will receive a custom designed email HTML template that you can easily upload into your existing email marketing service such as Mailchimp or Aweber. Read More…
3 Reasons Why Your Small Business Really Needs Email Marketing
Imagine you received $38 for every dollar you spent. Not bad, eh? With email marketing, you can expect just that — an average return of $38 [1]. That's thirty-eight times your original investment. Where else can you get such a huge return?
So, why is email marketing lucrative?
Email subscribers are more likely to share content on social media than leads on other channels [2].

Email subscribers spend $138 more than customers who don't receive email offers.

Email subscribers like to receive promotional offers more than once a week.
So, how can you use all of this to your advantage? With custom email marketing campaign templates, that's how. Turbocharge your digital marketing efforts with personalized, highly-targeted HTML templates for your next campaign.
It could be the best thing you do for your business this year.
Here are three reasons why you need to invest in email marketing right now:

1. Email Marketing Lets You Send High-Quality HTML Emails to Your Consumers
Plain text emails are so 2008. Nearly two-thirds of email subscribers say they prefer HTML-based emails over text-based emails. Unfortunately, composing HTML emails can be a challenge. You need to create responsive messages that work in every email client and on every device. Then, you need to include headers, images and graphics. It's a lot of work.
Thankfully, there's a solution. Digital Marketing Web Design has created customized email marketing campaign emails that you can use for your next campaign. We do all the hard work for you, so you can focus on other areas of your business. Plus, you can easily upload these templates to your existing email marketing service, whether it's MailChimp or Aweber.
Unlike some other email templates, all of our templates work on mobile. This means consumers can read your marketing messages on their smartphone or tablet wherever they are in the world. This is great for lead generation and sales — consumers open around 53 percent of emails on mobile devices, and 23 percent of customers who read an email on mobile open it again later.

2. Email Marketing Provides You with a Return on Your Investment
Email marketing works, and there's loads of research to back up this claim. Three-quarters of all companies believe that email provides them with a "good" to an "excellent" return on their investment, while 86 percent of professionals prefer to use email for business purposes. Moreover, global email use will top three billion users by the year 2020. That's a lot of people!
Think of email marketing templates like your own personal sales rep who sells your products and increases the visibility of your brand. Better still, you don't need to pay them! It's the ultimate revenue-generator.

In the long-term Search Engine Marketing allows you to:
Email marketing allows you to connect with your existing customers on a deeper level. You can send them personalized communications based on their purchasing history and interests, and encourage them to purchase more products from your online store.
You can also use HTML email marketing campaign templates to:
Increase leads and move customers through the sales funnel.

Introduce new products and advertise special offers and discounts.

Announce important company news and share industry-related information.
Ready to start with email marketing? Just tell us how many HTML email templates you want and click on the add to cart button.  We'll do the rest!
Professionally Designed Email Marketing Campaign Templates That Are Optimized To Achieve Your Goals!
Sources:
[1] https://blogs.constantcontact.com/email-marketing-stats/
[2] https://www.wordstream.com/blog/ws/2017/06/29/email-marketing-statistics
[3] https://blog.hubspot.com/marketing/plain-text-vs-html-emails-data
[4] https://www.campaignmonitor.com/blog/email-marketing/2016/01/70-email-marketing-stats-you-need-to-know/
[et_pb_fullwidth_header_extended title="Email Marketing Campaign Templates" text_orientation="center" button_one_text="Learn More" button_one_url="https://www.youtube.com/watch?v=2NxlwAYLQlc" button_mobile_fullwidth="on" popup_video_on_off_one="on" button_one_twod_hover_on_off="on" button_one_twod_hover_style="hvr-pulse" button_two_twod_hover_on_off="on" button_two_twod_hover_style="hvr-pulse" _builder_version="4.4.0″ title_font="Muli||||||||" title_text_color="#ffffff" title_font_size="64px" custom_button_one="on" button_one_text_size="20px" button_one_text_color="#ffffff" button_one_bg_color="#593aff" button_one_border_width="0px" button_one_border_radius="2px" button_one_letter_spacing="1.5px" button_one_font="Muli|800|||||||" button_one_custom_padding="14px|36px|14px|36px|true|true" title_font_size_tablet="" title_font_size_phone="50px" title_font_size_last_edited="on|tablet" box_shadow_style_button_one="preset3″ box_shadow_blur_button_one="60px" box_shadow_spread_button_one="-12px" box_shadow_color_button_one="#593aff" button_one_bg_color__hover="#783aff" button_one_bg_color__hover_enabled="on"][/et_pb_fullwidth_header_extended]
Request A Free Consultation