Online Reputation Management Services
Reputation
Management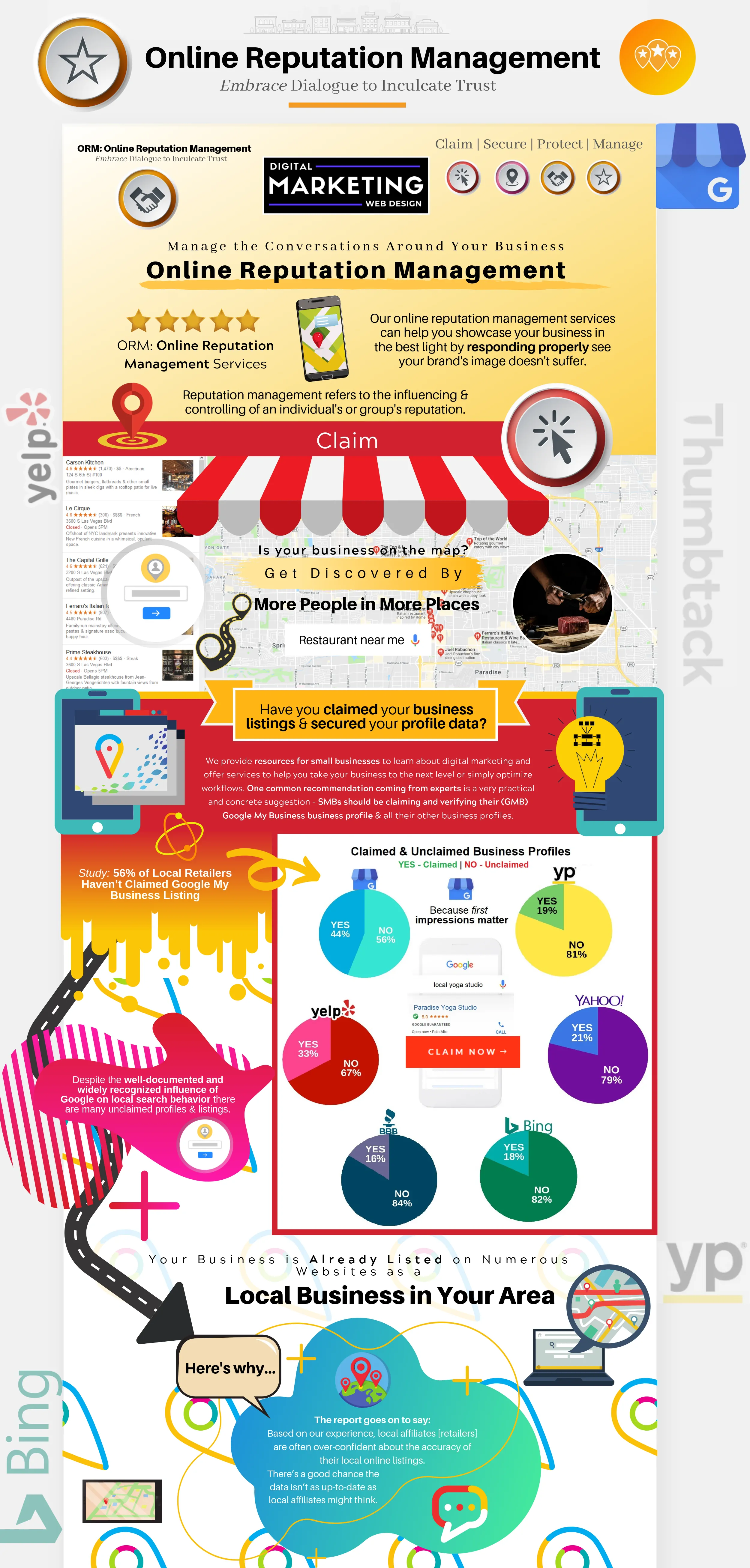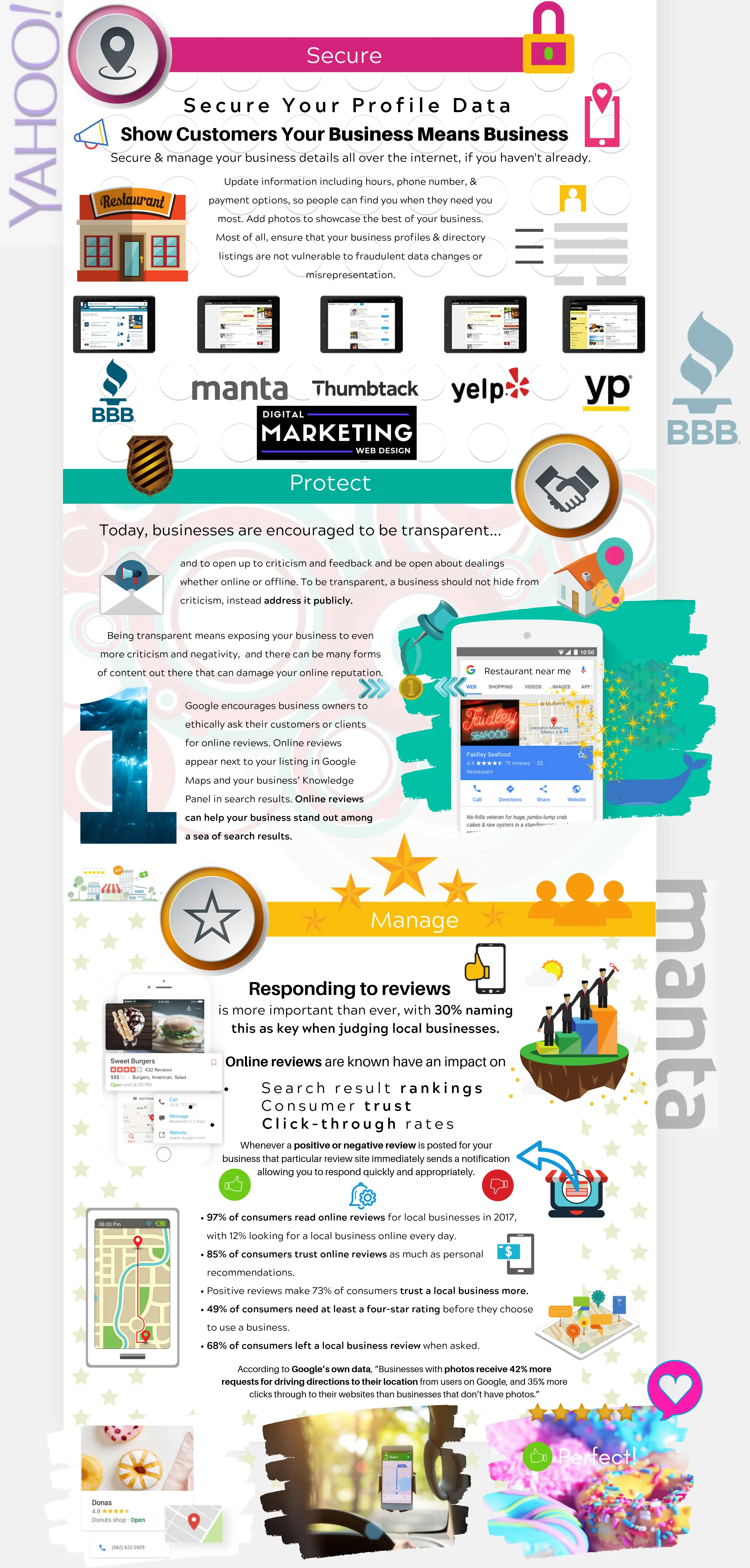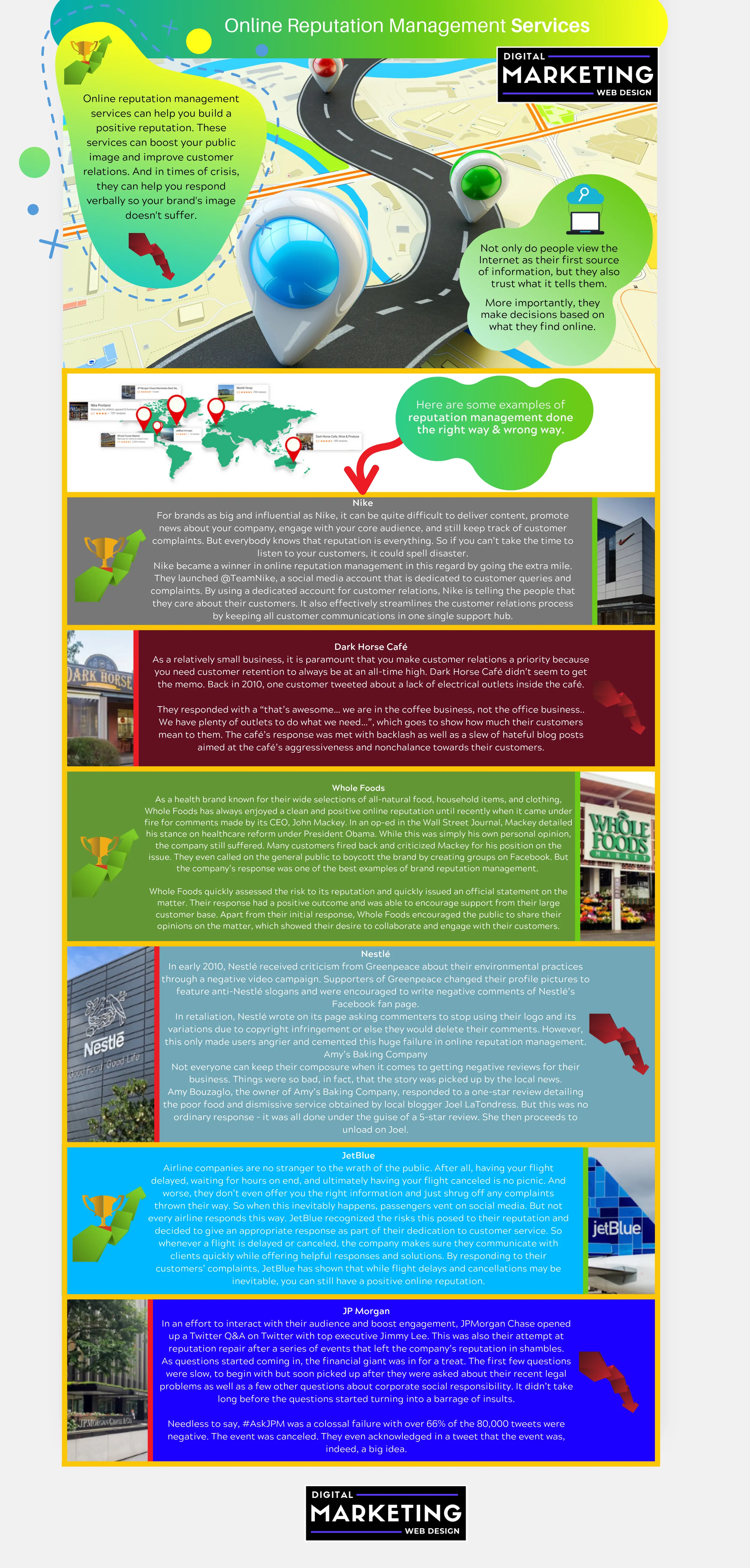 What is Online Reputation Management?
Online reputation management (ORM) involves a series of strategies applied to manage media that shape or influence how a company, individual, or organization is perceived by the public. By using ORM, a company is able to drive public opinion about their business to improve their image and ultimately, build a steady reputation that can help improve sales on products and services.
ORM allows you to take control of your brand name and maintain its good image online using various tools to push down bad reviews and replace them with positive reviews so that anyone searching will only find the highest reviews. This creates a positive customer experience and paints your business in the best possible light.
What does Online Reputation Management Involve?
There are many techniques involved in ORM. Some of these include:
Adding review schema markup to your website.
Installing online reputation management software to easily manage reviews.
Proactively asking for online reviews.
Actively responding to reviews, whether positive or negative, to express gratitude or address concerns.
Promoting positive reviews over various channels.
Producing quality content that paints your business in a positive light.
Generating positive buzz to replace negative feedback.
How Is It Different from Search Engine Optimization?
ORM and SEO are somewhat similar to each other in that both techniques involve creating content to appear on search results. However, they both are fundamentally different in their execution. SEO involves promoting the website or page using various techniques in order to reach the top of the search results and improve a brand's visibility through certain keywords. Meanwhile, ORM controls a brand's online reputation by creating content that replaces the collection of websites that appear on search. Negative web content is pushed down the rankings by aggressively creating positive content.
How Is It Different from Public Relations?
ORM and PR also have their similarities in that both involve reputation monitoring and reputation repair. However, the techniques involved in both are fundamentally different. PR can be thought of as traditional reputation management because it involves controlling the narrative by keeping the bad press at bay while increasing press coverage of positive aspects as much as possible. That is why most PR managers recommend destroying any evidence of past misconduct while also arranging photo ops with children at a kids' hospital or with animals at a petting zoo.
Online reputation management involves more modern techniques for reputation repair, which does not involve destroying evidence of misbehavior. Rather, it involves dominating the conversation when it comes to certain keywords and makes negative content unsearchable by creating more content that is more positive.
The Business of Transparency
In recent years, transparency has become somewhat of an unofficial theme as many scandals have come to light. Think James Gunn who lost his job as director for Guardians of the Galaxy Vol. 3 (but was recently re-hired) due to a few bad tweets he made a while back, or the #MeToo movement where victims of sexual assault by celebrities have come forward.
Today, businesses are encouraged to be transparent – to open up to criticism and feedback and be open about their dealings whether online or offline. Audiences are clamoring for their favorite brands to be open to communication and embrace dialogue to inculcate trust. But what does it mean to be transparent?
To be transparent, a business has to be open to feedback and criticism. It should not hide from criticism and instead, address it publicly. It also has to allow its employees to talk about its products and services publicly.
Of course, being transparent also means opening yourself up to receive more criticism, which creates great risk. However, being secretive in today's business landscape is seen as a sign of distrust, which creates an even greater risk.
What Can Damage Your Online Reputation?
In terms of online reputation management, there are four types of content that range from something potentially maligning to complete destruction. That is why it is important to learn how to address them carefully to protect your web reputation.
Negative Social Media Remarks. Various complaints and negative remarks posted on social media can potentially ruin your business's reputation. However, most comments lack credibility to be taken seriously unless they go viral.
Negative Reviews. Review sites like Yelp or TripAdvisor allow its users to post reviews about your business. The reviews found here are seen as credible, which could negatively impact your bottom line if not addressed correctly.
Hate Sites. Going beyond the simple review, some users go as far as creating websites as a conduit for their hatred of a certain brand. While these often contain illegal content, a simple search result showing something so scathing as hate speech toward your brand could turn users away.
Negative Media Coverage. Sometimes, negative content goes viral and gets picked up by the media, which creates even more buzz and generates even more negativity, which severely affects business reputation.
Freedom of Expression
Being transparent means exposing your business to even more criticism and negativity, and there are many forms of content out there that can damage your online reputation. But can we do anything about it? According to Article 19 of The Universal Declaration of Human Rights, we can't. The article reads:
"Everyone has the right to freedom of opinion and expression; this right includes freedom to hold opinions without interference and to seek, receive, and impart information and ideas through any media and regardless of frontiers."
This is our universal right to freedom of expression. It means every human being has the right to speak up, express opinions, or criticize just about anyone. However, a line has to be drawn somewhere. This freedom ends when:
Statements involve scathing remarks
False information is distributed
It constitutes defamation and maligning
While there are laws that control these situations, they can be difficult to enforce online, which makes protection difficult.
How Can You Fix Your Online Reputation?
When it comes to reputation management, taking legal action should always be a last resort. Establishing proof of slander or defamation can take months of litigation with unclear results. Furthermore, fighting back at your detractors can just amplify the damage to your good reputation.
But how do we fight back without taking the case to court?
The best way is to utilize a reputation management strategy that helps you stay on top of the buzz and take action when necessary to maintain a good online reputation. Of course, it may sound simple enough, but there is actually a lot of work involved, which can take a lot of time and effort to accomplish. If you're not up to the task, it's best you get the services of a reputation management agency.
There are many techniques involved in online reputation management. We'll share with you a few of these techniques to give you a better picture of what online reputation management is and what it entails.
Claim Your Business on Local Review Sites
Did you know that your business is already listed on numerous websites as a local business in your area? Without any input from you, your business is already part of lengthy business listings on different websites. But not much can be done when your business is left unclaimed. Claiming your business enables you to access a plethora of management tools, which include reviews.
Whenever a positive or negative review is posted for your business, the review sites immediately sends you a notification, allowing you to respond quickly and appropriately.
Some local review sites include:
Google My Business
Yelp!
TripAdvisor
Yellow Pages
Thumbtack
Manta
The Better Business Bureau
Utilize the Four Distinct Digital Marketing Channels
Starting a content marketing strategy enables you to post positive content and build your brand's online reputation. This allows you to dominate the search results and take control of the content shared about your brand. There are four distinct digital marketing channels that you can utilize to accomplish this. Here they are.
Paid Media. Paid media encompasses all tools and channels that require payment before they can feature your business. This includes utilizing display ads on Facebook and other social media channels, PPC advertising with Google AdWords, and paying influencers for sponsored content.
Earned Media. Earned media describes business coverage that you do not pay for and instead earn. This involves creating or sharing great content centered on your products or services that are deemed worthy to be shared, mentioned, reposted, or reviewed. This includes viral content, recommendations, or social media reviews.
Social Media. Your profiles and/or pages on social media can be considered as an extension of your brand within a community of users. This enables you to interact and engage with the community by regularly posting fresh content and staying active within these channels.
Owned Media. Owned media, as the name indicates, are channels that you own or control. These are your websites and blogs through which you can regularly share fresh content to your readers. Because you own these channels, you have full control over the content that is shared over these channels. This can be an effective tool for managing your online reputation since the more you own, the more content you can publish that can help you establish a good online presence.
Set up a Google Alert
A Google Alert is basically a notification that lets you keep track of content shared about you. Whenever Google indexes information about you, you get notified. This lets you keep track of all online activity about you, so you can celebrate when it's good or do something about it when it's bad.
Why is Online Reputation Management Important?
The actions of others toward our brand is far from our control. We simply cannot control the actions and behavior of others online. So how then can we protect ourselves and our brand from those that seek to destroy our reputation? There's online reputation management. Here are some ways ORM can help you and your business:
1.  It Builds Up Your Image
As a brand operating online, your web reputation is very important to you. Having a clean and successful image is necessary as it acts like a marketing tool that helps attract more customers. Moreover, users rely on search results for information. Any resource that points to something negative can certainly turn your audience away.
The best online reputation management strategy can help build the perfect brand image. Reputation monitoring enables you to track brand mentions and responses to any form of communication across multiple channels to help you create the brand image your company desires. Gain analytics on your posts to understand what works for your audience to create the perfect social media marketing strategy. And when something goes wrong on the internet, reputation management can help you fix the issue right away to improve your disposition.
2.  It Restores Your Reputation
For those that have suffered through social media mishaps, a slew of scathing reviews, or numerous hateful comments, they understand that these PR nightmares are quite difficult to handle or reverse. These could lead to some trouble for your business if not handled the right way. But with ORM, reputation repair services can help you restore your hard-earned business reputation. Online reputation repair strategies such as quick responses to negative reviews, burying scathing remarks under a multitude of good reviews, and online monitoring can elevate your business back to relevance.
3.  Gives You a Better Search Engine Ranking
The strategies involved in online reputation management can create a large impact on SEO. Online reviews, for example, are prioritized by search engine algorithms because of their heavy influence on user decisions. Additionally, online reputation marketing entails an aggressive SEO campaign in an effort to push down any negative PR accrued over a period of time. These strategies ultimately lead to more visibility for your brand on a search engine results page.
4.  Increases Trust and Credibility
A brand's reputation should be their most treasured possession because it tells how customers, new and old, perceive them. Having a bad online reputation suggests dissatisfaction among current consumers, which encourages further distrust among prospective customers. Meanwhile, having a good online reputation suggests great customer satisfaction, which prompts new customers to trust you and view you as a credible brand.
5.  Better Recruitment
When customers view your brand in a positive light, feelings of trustworthiness and ease are cultivated into prospective customers and future members of the organization. And because yours is now a brand that can be trusted and is credible, recruitment becomes easier. For customers, a good online reputation built from positive reviews works like the best sales pitch built through social proof. For future members of your organization, your good web reputation lets everyone know you treat your members well, which can attract the best talents to work with you.
6.  Increases Sales
With more sales as the ultimate goal, having a more than stellar online reputation can certainly do no harm. Again, you can leverage positive reviews, comments, or remarks as social proof. As customers trust their peers more than brands, your good standing can help you attract more customers and boost sales. Let your good online reputation do the talking and the sales will just come naturally.
Cases of Successful Online Reputation Management Campaigns
Online reputation management services can help you build a positive reputation. These reputation management agencies offer services that can boost your public image and improve customer relations. And in times of crisis, these reputation management firms can help you respond properly so your brand's image doesn't suffer. Here are some examples of reputation management done the right way.
Nike
For brands as big and influential as Nike, it can be quite difficult to deliver content, promote news about your company, engage with your core audience, and still keep track of customer complaints. But everybody knows that reputation is everything. So if you can't take the time to listen to your customers, it could spell disaster.
Nike became a winner in online reputation management in this regard by going the extra mile. They launched @TeamNike, a social media account that is dedicated to customer queries and complaints.
By using a dedicated account for customer relations, Nike is telling the people that they care about their customers. It also effectively streamlines the customer relations process by keeping all customer communications in one single support hub.
Whole Foods
As a health brand known for their wide selections of all-natural food, household items, and clothing, Whole Foods has always enjoyed a clean and positive online reputation until recently when it came under fire for comments made by its CEO, John Mackey.
In an op-ed in the Wall Street Journal, Mackey detailed his stance on healthcare reform under President Obama. While this was simply his own personal opinion, the company still suffered. Many customers fired back and criticized Mackey for his position on the issue. They even called on the general public to boycott the brand by creating groups on Facebook.
But the company's response was one of the best examples of brand reputation management. Whole Foods quickly assessed the risk to its reputation and quickly issued an official statement on the matter. Their response had a positive outcome and was able to encourage support from their large customer base.
Apart from their initial response, Whole Foods encouraged the public to share their opinions on the matter, which showed their desire to collaborate and engage with their customers.
JetBlue
Airline companies are no stranger to the wrath of the public. After all, having your flight delayed, waiting for hours on end, and ultimately having your flight canceled is no picnic. And worse, they don't even offer you the right information and just shrug off any complaints thrown their way. So when this inevitably happens, passengers vent on social media.
But not every airline responds this way. JetBlue recognized the risks this posed to their reputation and decided to give an appropriate response as part of their dedication to customer service. So whenever a flight is delayed or canceled, the company makes sure they communicate with clients quickly while offering helpful responses and solutions.
By responding to their customers' complaints, JetBlue has shown that while flight delays and cancellations may be inevitable, you can still have a positive online reputation.
Cases of Failed Online Reputation Management
Among the many services offered under ORM is social media reputation management, which enables you to take control of your social media and effectively build a positive reputation with the public through social media. It also gives you the ability to respond quickly and correctly on social media to avoid any potential social media reputation crisis, similar to the examples below.
Dark Horse Café
As a relatively small business, it is paramount that you make customer relations a priority because you need customer retention to always be at an all-time high. Dark Horse Café didn't seem to get the memo. Back in 2010, one customer tweeted about a lack of electrical outlets inside the café.
They responded with a "that's awesome… we are in the coffee business, not the office business.. We have plenty of outlets to do what we need…", which goes to show how much their customers mean to them. The café's response was met with backlash as well as a slew of hateful blog posts aimed at the café's aggressiveness and nonchalance towards their customers.
Nestlé
In early 2010, Nestlé received criticism from Greenpeace about their environmental practices through a negative video campaign. Supporters of Greenpeace changed their profile pictures to feature anti-Nestlé slogans and were encouraged to write negative comments of Nestlé's Facebook fan page.
In retaliation, Nestlé wrote on its page asking commenters to stop using their logo and its variations due to copyright infringement or else they would delete their comments. However, this only made users angrier and cemented this huge failure in online reputation management.
Amy's Baking Company
Not everyone can keep their composure when it comes to getting negative reviews for their business. Things were so bad, in fact, that the story was picked up by the local news.
Amy Bouzaglo, the owner of Amy's Baking Company, responded to a one-star review detailing the poor food and dismissive service obtained by local blogger Joel LaTondress. But this was no ordinary response – it was all done under the guise of a 5-star review. She then proceeds to unload on Joel.
JP Morgan
In an effort to interact with their audience and boost engagement, JPMorgan Chase opened up a Twitter Q&A on Twitter with top executive Jimmy Lee. This was also their attempt at reputation repair after a series of events that left the company's reputation in shambles.
As questions started coming in, the financial giant was in for a treat. The first few questions were slow, to begin with but soon picked up after they were asked about their recent legal problems as well as a few other questions about corporate social responsibility. It didn't take long before the questions started turning into a barrage of insults.
Needless to say, #AskJPM was a colossal failure with over 66% of the 80,000 tweets were negative. The event was canceled. They even acknowledged in a tweet that the event was, indeed, a big idea.
American Airlines
The airline industry is full of unsatisfied customers and even angrier passengers. That's why many airline companies are so eager to use just about any strategy in an effort to repair their reputation. Some succeed, while others, like American Airlines, are colossal failures.
American Airlines launched a Twitter campaign in 2013 where an automated reply is given to each disgruntled customer. Of course, there is nothing with this, especially since it shows an effort to reach out. However, the automated response was a message stating "thank you for your support" instead of an apology, which was seen as a complete insult and was only adding salt to the wound. It became painfully obvious that the company was sending automated tweets. This was met with mockery, sarcasm, and even more negativity.
Avoiding Reputation Management Mishaps
Online reputation management is easy to accomplish in theory. However, as shown in the examples above, it's also just a misstep away from ending in disaster. So instead of having to do it yourself, one of the best ways to manage your reputation online is to let professionals that offer internet reputation management services handle the work.
Online Reputation Management Services
As a reputation management firm, it is our job to ensure that you and your brand have the best possible online reputation.
Digital Reputation Management. We employ many different reputation management strategies that ensure that your image online remains spotless so your brand can maintain its good standing with its customers.
Reputation Repair. For brands that suffered a setback that saw their reputation take a hit, a wide array of reputation management strategies can be deployed in an effort to repair your reputation and restore your good standing.
Crisis Control. In the midst of a crisis, we also provide online reputation marketing among other online reputation services to help you get through a crisis and control the situation. This is to ensure that your online reviews are positive and your relationship with your customers remain intact.
Online Reputation Management Strategies
We employ a wide assortment of strategies aimed at helping you boost and maintain your brand's online reputation. These include:
Online Reputation Monitoring. We continuously monitor websites like Yelp, Glassdoor, Thumbtack, The Better Business Bureau, and TripAdvisor to see conversations that involve your brand. This allows you to stay on top of the conversation and understand how you are being discussed on various review sites.
Social Media Reputation Management. Part of our online reputation management strategy is to create, manage, and monitor your social media marketing channels. For effective reputation management, we control the content that is posted on these channels as well as the frequency and timing of these posts while also keeping an eye out for negative reviews.
Content Creation. As one of the best online reputation management firms in the country, we also offer content creation as part of our strategy to control how your brand is being portrayed online. We create content centered on your brand and publish across a wide range of channels to ensure that all positive content about you dominate the search engine results page.
Review Management. Monitor your online reviews across such channels as Google My Business, Yelp, and TripAdvisor and stay on top of the conversation. Once a review is made about your brand, we can instantly respond to negative reviews and promote those that are positive.
Request A Free Consultation