Pinterest has really carved out a unique position among the social media giants. The visually driven social media site has seen constant big jumps in their revenue and recently received a valuation of $12.3 billion valuation in 2017. Despite the company's immense growth, many digital marketers have been putting off Pinterest for Facebook, Instagram and Twitter.
But Pinterest really does deserve more attention from digital marketers. Analytics Partners reported that companies saw an average of $2 in profit for every $1 spent on the social media channel. That's a 300 percent return on investment which is either comparable or better than Facebook and Instagram (depending on the industry). The question now is: What does Pinterest entail? How do you get started with Pinterest marketing? What are some proven strategies you can use to get results from the site?
Let's start at the beginning.
Getting Started With Pinterest Marketing
How Pinterest Works
Before introducing how marketing on Pinterest works, it's important for you to get an understanding of how Pinterest functions. Pinterest is a visually driven social media site where regular users, brands, and small businesses post images, photos and videos. One part of what makes Pinterest unique is that content is often curated (more on why later) from other Pinterest users. The other part is that Pinterest is a bookmarking site where users save their favorite content on what's called boards (categorized groups of pins) for future reference.
Initially, the goal of Pinterest was to allow users to find, create and share ideas while also cataloging them for their own use. But the site rapidly became the most popular shopping platform for a large segment of consumers. Just take a look at some of the stats compiled by Hootsuite.
47% of millenials have bought something they have pinned.

55% of the site's users actively shop on Pinterest.

67% of Pinterest users use the site to guide their offline in-store purchases.

73% of active users made a purchase primarily because it was found on Pinterest.
The list goes on but the bottom line here is that there is a strong commercial intent among Pinterest users.
Pinterest Content Creation Ideas
As with any other social media site, you should look to build a large following on the site. You'll want to build relationships with your audience and keep them engaged by publishing high quality content (pins) on a consistent basis. Of course, this starts with creating pins that your audience is interested in. You can get an idea of what kind of content your audience likes by researching competitors and looking for content that has received the most saves, comments, and photos. You can also use the following resources to find popular pins:
https://www.pinterest.com/categories/popular/
Optimizing Your Pins
After you've created some great content, you need to learn how to optimize your pins. There are many things that you can do to maximize the visibility and reach of your pins. Here's a checklist that you can use every time you post on Pinterest.
Write compelling titles. If you're posting pins that link to blog content, you must make sure that you have a title that grabs the attention of users and piques their interest. Try different title iterations until you feel like you've come up with something that's impactful.
Write descriptions that elaborate what your post is about. Put some thought into selling the link to your site or highlighting the product so that users are driven to take action. Make sure you use your target keywords in your description but don't overdo it. Here's a pin with a great title and description.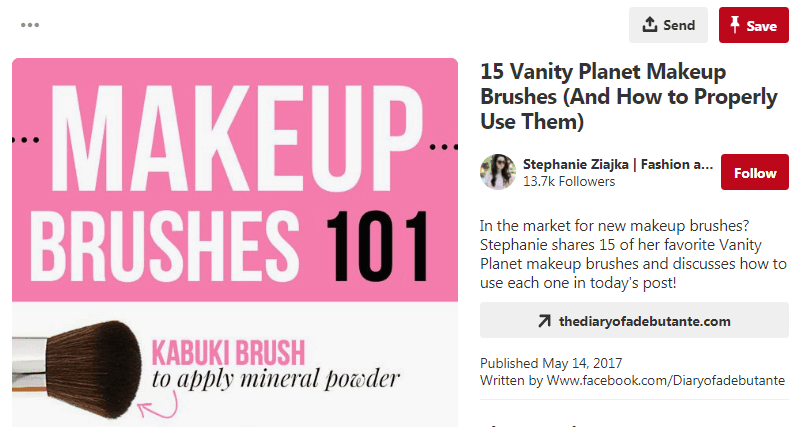 Create save-worthy pins
Use relevant images for your pins but make sure you dress it up with great design. You'll notice that the most popular pins on Pinterest have eye-popping designs. Don't forget that your goal is to make your pin stand out from the crowd.
Example below:
Use tall images over wide ones (Pinterest recommends 600 x 900px). They stand out more, look like they are more spacious, and makes your content easier for users to consume. If you make them any bigger, it might receive less distribution according to Pinterest.
If necessary, text overlays that describe your pin. This draws attention, adds context, and draws more clicks. It might also help to use your target SEO keywords in your text overlay when appropriate as Pinterest has a visual search feature that can read them. Example below: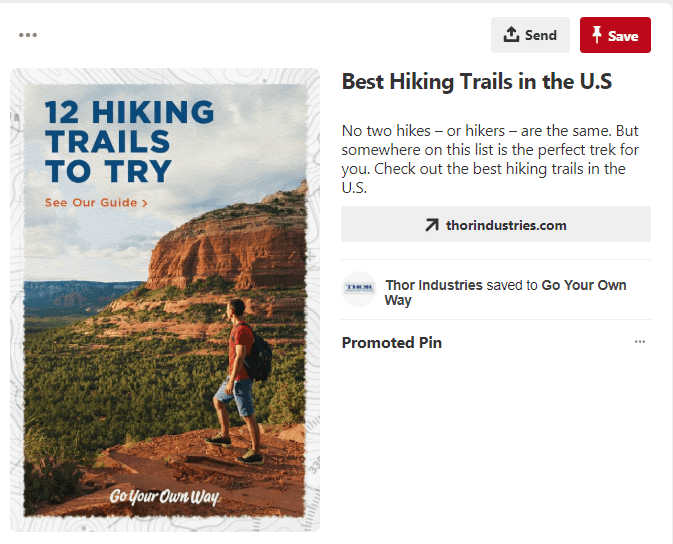 Add hashtags to your pins. Hashtags can be a great way for your pin to get found if there's a trending hashtag term. A great idea to get hashtags ideas is to refer to the suggested category links at the top of the page after you make a Pinterest search. It also helps to look for related hashtags on Instagram and Twitter that may be trending.
Understanding and Using Pinterest For Marketing
Now that you know the basics about optimizing your pins, it's time to actually start marketing on Pinterest. There are many things you can do to build followers, bring in traffic to your site, and generate sales using Pinterest.
Setting Up the Foundation for Pinterest Marketing



The first thing you want to do is to set up a business account. Activating a business account will require that you connect your account with a specific domain. After verification, you will be able to enable what's called rich pins. These are basically different types of pins suited for businesses. The list includes product, recipe, article, and app pins. Most businesses will probably want the ability to post product and article pins.
The second thing you'll want to work on is to optimize your profile and posting.
Use your most important keywords in your business name. You can always use your personal name and brand, followed up by your main keyword. Examples: Digital Marketing Labs – SEO and Social Media Marketing; Shannon McHale | Low Carb Diet Lifestyle; Milly Hoffman (Seasonal Fashion Advice + Everyday Fashion Tips)
Make sure your bio describes what your account is about. Be focused and concise with your description. Doing so will allow you to add a few of your most important keywords. Make sure you end the bio with a link back to your site. This is a great example of a profile page: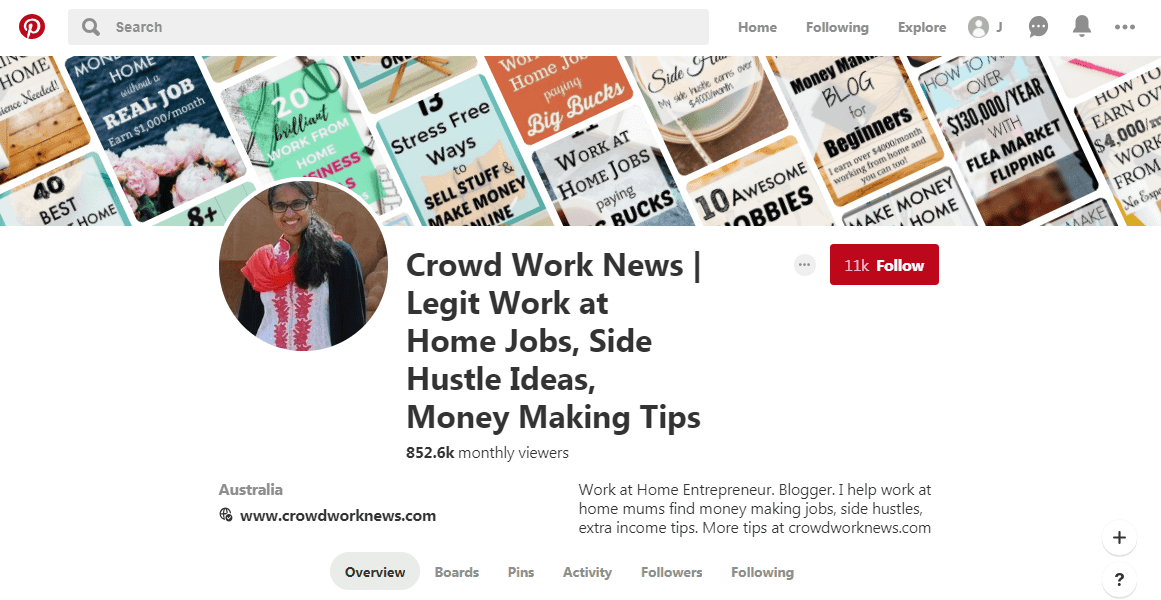 Pinterest has recently announced that the first five pins of the day (4PM PST or 7PM US EST) is prioritized to be distributed. Make sure you put serious thought into the first few pins of the day.
Finally, Pinterest will determine a quality score for you as a pinner, your actual pins, and your domain. To raise your score for all these metrics, you want to do several things. Start by creating great content and optimizing your pins. Follow this up with a consistent pinning schedule. Then have your website promote your pinned content to build a high number of saves. And of course, aim for good engagement metrics for your pins by creating relevant content and researching what your audience wants.
Creating and Optimizing Boards
Boards are basically categorized folders for your pins. A great way to get more visibility for your pins is to create tightly themed boards. For example, a wedding planner might create a board for beach weddings, destination weddings, gorgeous wedding favors, floral arrangements, etc. The more boards you have, the better chance you'll have to get your pins discovered.
Like your profile, you'll also want to optimize your boards. Name the boards around the keywords you are targeting. Categorize the boards correctly. Use board section for different themes/mini categories within your board. Then make sure that you include a brief description for your board that includes your main keywords as well as keywords relevant to the board category.
A grassroots tactic you can use to grow your Pinterest campaign is to take part in Pinterest group boards. These are basically boards where there are multiple contributors and have a large number of followers. You will usually have to prove that you can add a lot of value in the form of outstanding content (meaning you need to have some history) and contact the board owner to get accepted. You can use tools like Pingroupie to find group boards and the creators behind the boards.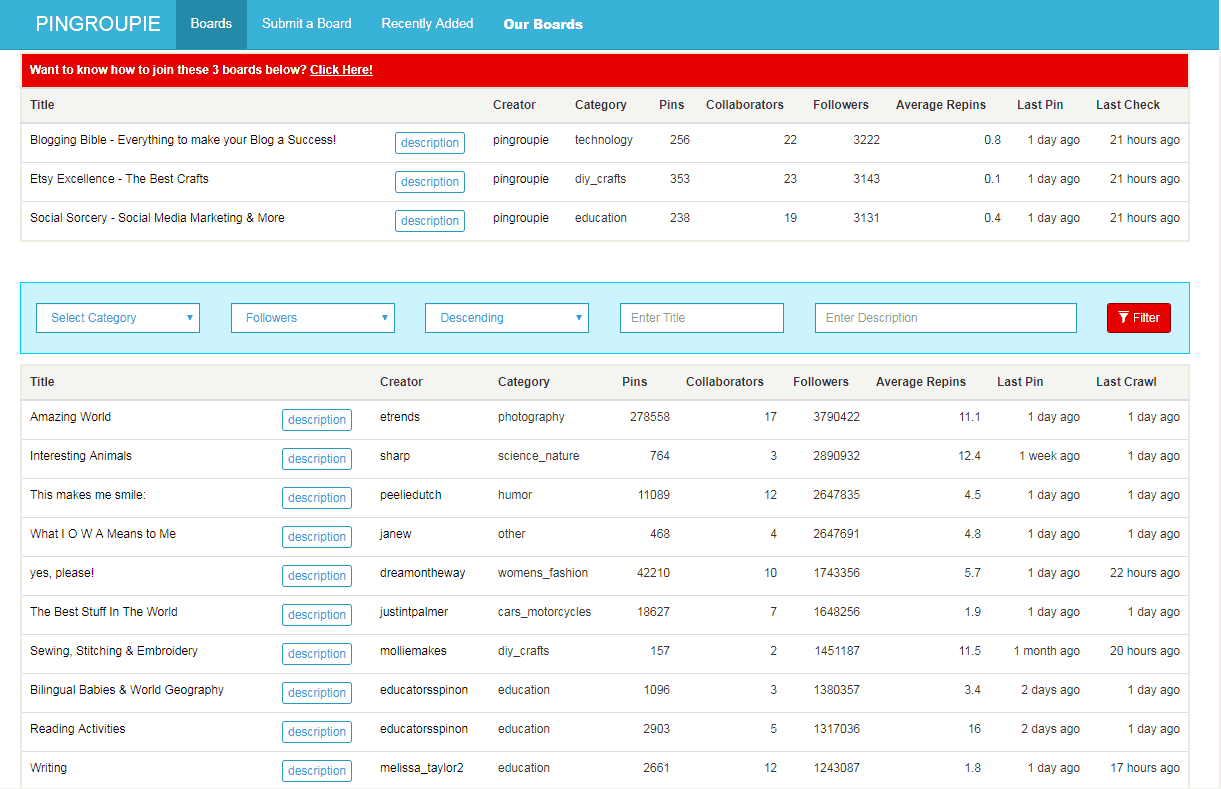 Automating Pins
Pinterest is a little different from other social media sites in that you get better results from posting more content. Many businesses and brands post anywhere from 10 to 30 pins a day. This would seem impossible for the average small business owner to keep up with. But as mentioned earlier in the guide, Pinterest content is often curated due to this reason. The ideal way to post content is to pins a mix of original content and curated content from other users.
Even if you do have a strategy for creating and curating content, posting that many pins throughout the day is difficult without the right tools. That's why you want to use scheduling tools like Tailwind, SproutSocial or Buffer to automate your posting. These tools also gives you the ability to post to different boards, easily schedule content using visual calendars, get in-depth analytics data to identify the ideal posting days/times, and more. Tools like Nextscripts can be integrated directly into your WordPress website and will automatically create posts from your blog posts as well as repost content to automate your social media content strategy.