Facebook advertising and marketing is one of the most effective ways for businesses to reach their target audience. While many small and local businesses are seeing great results from their Facebook campaigns, they aren't maximizing the ROI of their campaigns. Very few are utilizing Facebook Analytics to its full potential.
If you belong this group of business owners or you're simply new to Facebook and want to make the most of your data, this guide was written for you. It will walk you through the basics of Facebook Analytics and break down everything you need to do in a step by step manner.
How To Get Started With Facebook Analytics
Setting Up and Accessing Facebook Analytics
First, sign in to your Facebook account. Then visit the following link and click on "Get Started" and then '"Set Up Analytics" on the following page:
https://analytics.facebook.com
Alternatively, you can login to an existing Facebook Ad Manager account and access the main navigation menu at the top left drop down button. Then you can go to "Analytics" under the "Measure & Report" column
Facebook Analytics will allow you to measure all of your Facebook marketing activity whether you're marketing your app, managing a Facebook page, running ad campaigns, or using Messenger to engage with your audience. You'll be able to see stats like reach, likes, shares, comments, referrers, and more.
To start making use of Facebook Analytics, you'll have to set up the Facebook Pixel to collect data. What is the Facebook Pixel? It is simply a code that you will be using on your website to help Facebook track what's happening with your campaigns. To access it, login to your Facebook account and click on the main navigation menu. Under the "Measure & Report" column, click on "Events Manager" and then "Pixels."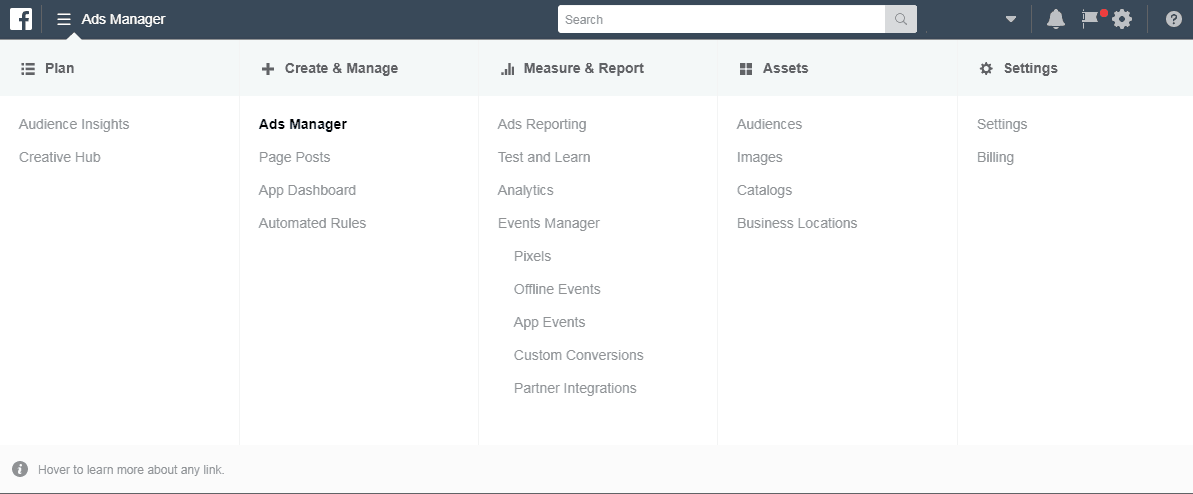 Adding the Facebook Pixel to WordPress
Once you click on the "Pixels" link, you'll be taken to a page where it walk you through the process of creating and installing the Facebook Pixel. Click on the "Create a Pixel" button. It will bring up a window where you can name the Facebook Pixel. After naming the Pixel, agree to the terms and click "Create Pixel" followed by "Install Pixel Now" in the next page. This will result in a page where you can view the Pixel code for copy and pasting.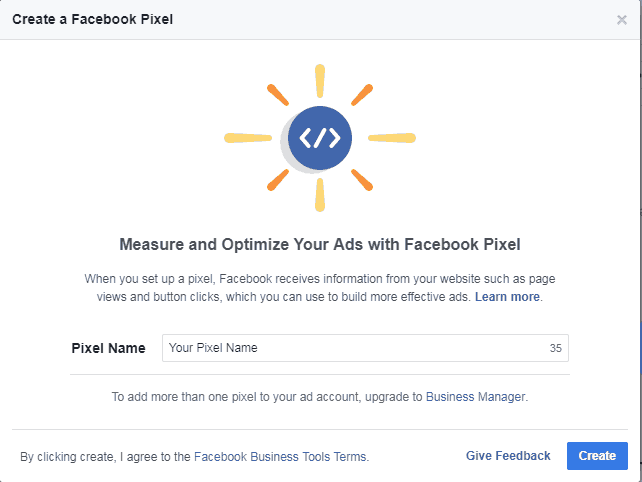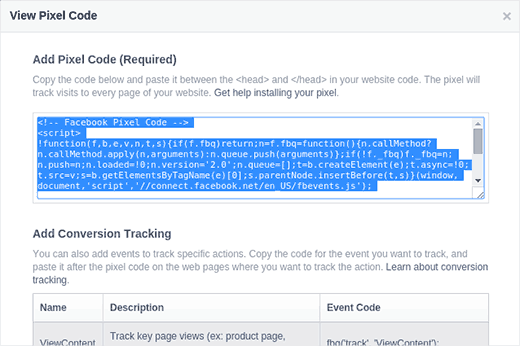 Note: If you need more than one "Pixels" for managing multiple websites or clients, you'll have to upgrade to the Business Manager account.
After you've grabbed the code, you need to add it in the HEAD tag of your WordPress website. Some themes may allow you to add it to every page on your site through a template system but if you have trouble with this, you can download the Insert Headers and Footers plugin.
Install the plugin and search for it in the Plugins link of the WordPress dashboard to find and activate it. Then go the Insert Headers and Footers plugin and click on "Settings." You'll now be able to insert the Facebook Pixel code to the HEAD tag for all of your pages.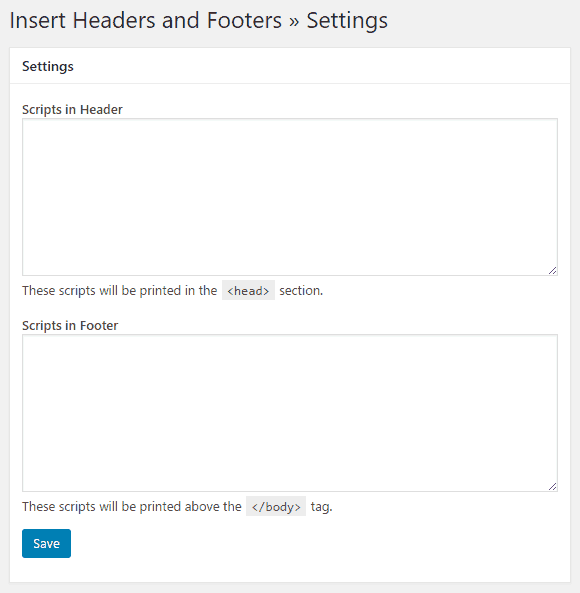 Understanding and Using Facebook Analytics
Now that you've set up Facebook Analytics and installed the Facebook Pixel on your website to work with the analytics tool, you want to learn how to get the most value out of it as you possibly can. One of the best ways to use Facebook Analytics is to optimize your funnel. Your funnel is basically the events that users go through from clicking on your ad, signing up to your email list, viewing your sales page, all the way to making a purchase.
You want to use Facebook Analytics to identify weak points in your funnel so that you can improvements in your campaign. You'll be able to lift your lead/sales conversions while increasing profits through this process. For example, you may find that your initial visitor email conversions are fairly good but the follow up sales page it redirects to is under-performing. Using this data, you can decide to work on improving the sales page or focus on creating a follow up system to improve sales conversions.
So how do you exactly set up Funnels in Facebook Analytics? Once you go into Facebook Analytics, you want to click on the "Funnels" link on the left hand side menu. Then click on the "Create Funnel" button. It will take you to a page indicated as "Funnel Steps" where you can add funnel events. Every time you click "Add Funnel Step," you'll be given the option to add an action that was taken. You can choose various options from comments, content view, complete registration, and more.

Once you choose the option, you can set various parameters to add rules for each step of the funnel. Furthermore, you can set a time frame for the funnel to be completed which is very helpful for shorter funnels. After you're done adding and editing all the funnels, click "Apply" to set all the funnel choices followed by "Save" to save and name your funnel.
Note that with the creation of each new funnel step, a new tab is opened at the top. To edit the funnel steps, simply click on each tab to open it. You can also rearrange the steps by dragging around the dotted icon on the left side of each tab. After you've started to collect some data with your Facebook campaigns, the funnel should start to build data that you can visualize.

Now what are some things that you can do with Funnels to increase sales aside from identifying problematic areas of your funnel?
Here are some great strategies you can implement:
Run a retargeting campaign to figure out which of your follow up ads on the Facebook ad network are the most effective You'll also learn how many times you should retarget Facebook users before giving up.

If you run an eCommerce site, make sure you track every step of the process from the add to cart action, checkout, and payment pages. Funnel optimization works especially well for this, especially if you use it with an abandoned cart email campaign.

Integrate an email follow up campaign to see which emails links lead to the most sales. This can help you figure out which of your emails to prioritize for further optimization.

Set up exit pop ups or pop overs on your site with some kind of time sensitive discount. This often leads to increased sales, but make sure it's a real time sensitive offer as consumers are aware of fake tactics that marketers often use.

Use the cohorts page to see if there's a correlation between any two events. For example, you may find that users that signed up for your webinar resulted in more sales than users that clicked your email links. You can now use this data to be more aggressive about promoting the webinar.
There is so much more that you can do with Facebook Analytics.  Facebook has also been working on their Analytics tool recently, so it's important to keep track of all the changes and updates. While it may be overwhelming, take it one step at a time to get a sense of how to use Facebook Analytics. If you are consistent with its use, it will become second nature before you know it.